Costco Pulls Conservative Author's Book From Their Shelves
SHARE THIS ARTICLE:
by
Yesterday, WND reported that Costco, the second largest retailer in the United States, is removing Dinesh D'Souza's book, America: Imagine a World Without Her, from their store shelves, just days before the July 4th weekend release of the D'Souza's conservative film, by the same name, in theaters.
Costco's book department issued the "pull order" of D'Souza's book, requiring all Costco stores nationwide to remove the book, which was confirmed by Costco Wholesale inventory control specialist Scott Loose, from their corporate headquarters in Issaquah, Washington, just outside of Seattle. The July 1st pull order required all copies of the book be removed by July 15th. When D'Souza was informed of the pull order, by outside parties, he stated that "this would be very odd, if true." When contacted by WND on Monday, most Costco stores said they had already pulled the book from their shelves, and others had scheduled it to be removed during regular inventory changes later in this week.
Many people on Costco's Facebook page expressed outrage at the book being pulled and threatened to cancel their membership with the retailer, on Monday. A post by a Costco employee, on their Facebook page, also seemed to blame the book's demise from their shelves on poor sales numbers, despite figures that, by other's retailers accounts, don't seem to necessarily support that claim.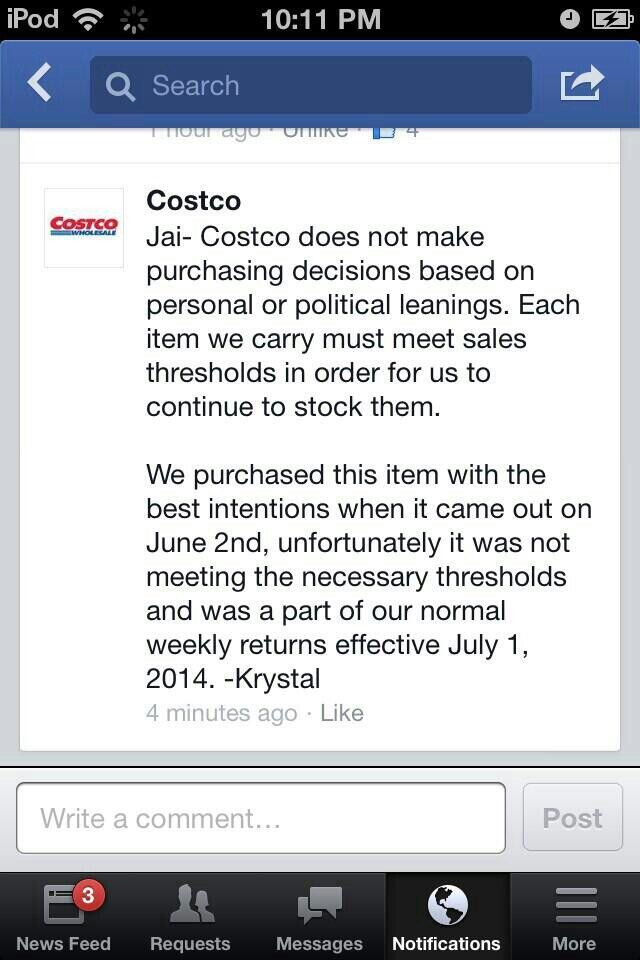 Meanwhile many Facebook members also noted that Hillary Clinton's book, "Hard Choices," which has gotten less than stellar reviews on Amazon, and is not living up to expected sale figures, is featured prominently in many of their local Costco stores.
Speaking with WND, Costco's chief financial officer Richard Galanti confirmed the pull order was made, however he couldn't quite explain why, according to WND, in an editor's note:
Late Monday night, after this story was published, Costco Chief Financial Officer Richard Galanti telephoned WND and confirmed the pull order. He insisted the order was not political and was based only on sales. He said Costco's policy is to market books that show up on the New York Times bestseller list. However, he could not explain why Costco began selling the book before it made the list, and, now that it is scheduled to debut on the list next week following release of the film, why it is being pulled. He promised he would investigate further and report back to WND before the end of business Tuesday.
America was given an average rating of 4.6 out of 5 stars on Amazon, while Clinton's Hard Choices received 2.2 out of 5 stars, on the say day. The Washington Examiner reported that D'Souza's book sold 4,915 copies in the first week of release, and 5,592 in the second week, however it was mysteriously absent from the New York Times bestseller list, where is should have ranked number 8, and then number 11th on the June 29th list. The New York Times list is considered important to authors for boosting sales. The book will be on the July 13th list, however, ranking at number 17.
D'Souza's book is a strong rebuttal of the progressive ideology behind President Barack Obama's policies, which are shared by the co-founder and director of Costco, Jim Sinegal. Sinegal is a major Democratic donor and a speaker at the 2012 Democratic National Convention, and has strongly supported many of Obama's policies.
The retailer played an important role in the 2012 election, countering Walmart's support of Republican candidates and issues, while also providing and easy way for Obama to bring up income inequality and smart job creation, during his campaign. Singal gave more than $20 million during the 2012 election cycle, mostly supporting issues and politicians in Washington state, and over the course of Obama's presidential career, Costco has given $100,000 to him and another $100,000 to Priorities USA, the pro-Obama super PAC. Costco employees also appear to be Obama supporters, which only 5% of the $102,600 in donations collected by them going to Republican candidates, and Susan Brottman, the wife of Sinegal's co-founder Jeff Brottman, was an Obama bundler in 2012, collecting over $500,000 in campaign donations.
---
UPDATE: On Tuesday evening, Costco CFL Richard Galanti said that they have decided to reverse it's decision to remove the book from its stores and will be bringing it back.
Local stores that had not yet returned the D'Souza book were instructed to keep remaining copies on the shelf. "Frankly, because of all the hoo-rah, some Costco locations have sold more of D'Souza's book today than they sold in the previous four weeks combined," Galanti said.
The "hoo-rah" he is referring to is the deluge of criticism, from angry Costco customers, to reports that they were pulling the book. The book now sits at number one on the Amazon bestseller list.
Earlier in the day, before the decision to restore the book was confirmed, he acknowledged that Costco book buyer Pennie Clark Ianniciello made a "mistake" issuing a "pull order" for the book on July 1, before the movie opened in more than 1,000 theaters nationwide.
According to Galanti, the book may take two weeks to get back into some of the stores, depending on how long the publisher takes to print and ship the books.
"We are bringing it back, not for political reasons, but because the book is now selling well," Galanti told WND. "We didn't pull the book on July 1 for political reasons, and we are not putting it back in the stores now for political reasons. We are doing this because we sell merchandise and D'Souza's book is now selling well."
However, according to D'Souza, in light of the success of his previous books sold by Costco, with the release of the companion movie last week, and with the book's strong Amazon sales, he finds it hard to imagine a reason for pulling the book other than "ideological solidarity with Obama."